What is Epoxy?
Epoxy refers to the basic components of the chemical compound polyepoxides. It is the key ingredient in Epoxy resins - a class of thermoset polymers made from a monomer that contains at least two epoxide groups. Its toughness, versatility, strong adhesive properties, and chemical resistance make it an ideal solution in many types of construction and building applications.
Common applications of Epoxy
As an adhesive:
The epoxy adhesive is widely considered the strongest adhesive available and is commonly used because they bond well with many substrates. Solvent-free epoxy adhesives provide water resistance, durability, chemical resistance, and thermal resistance.
As a surface coating:
Due to its excellent resistance to corrosion (solvents, alkalis, and some acids) and high strength-to-weight ratio, epoxy resin is applied as a surface coating primarily in industrial settings.
As a sealant:
Epoxy technology can be used in sealants and joint fillers to create long-lasting wear protection.
How is Epoxy used in flooring?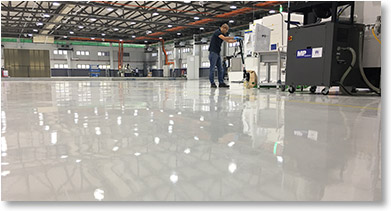 Once concrete is levelled, smoothed and primed, a resin and a hardening chemical are mixed together. The mixture is then immediately poured over the concrete and allowed to harden before a second or third layer is applied. During the curing process, the layers form a strong bond which results in an impermeable barrier that protects the substrate. Industries such as general manufacturing, medical, food and beverage and education facilities prefer to use epoxy flooring because it is strong, durable, low maintenance and stain resistant.
What are the benefits of Epoxy flooring?
Low material costs
Easy application
Stain-resistant and chemical-resistant
Antimicrobial
Easy to customise designs and decorative patterns
Suitable for heavy-duty, foot and vehicular traffic
Enhanced safety with anti-slip surface additives
Long lifespan
To find out in depth about the types of epoxy flooring, their individual benefits, recommended environments and system installations, please read
The Ultimate Introduction to Epoxy Flooring
by Flowcrete.
Flowcrete
Explore
Flowcrete's
wide range of resin flooring products, individually formulated from epoxy resins, polyurethane resins or methyl methacrylate resins. Each flooring range possesses individual advantages and suitability for different work environments. To get an accurate flooring proposal for your project, do
contact our team of flooring specialists
.