Tremco Construction Products Group (CPG) Asia Pacific (APAC) has recently announced the launch of its new
TREMproof Amphibia blindside waterproofing system
, a self-repairing sheet waterproofing product for blindside and below slab-on-grade applications.
The new TREMproof Amphibia blindside waterproofing system self-heals penetrations such as nail and staple holes and small cuts, and mechanically self-adheres to concrete substrates, including shotcrete. The Amphibia product joins the already-expansive line of TREMproof waterproofing solutions that includes Below Grade Waterproofing, Cementitious Waterproofing, and Roofing Waterproofing.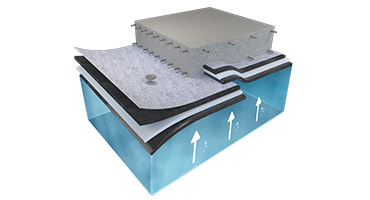 "TREMproof Amphibia is an innovative tri-layered waterproofing system that provides self-healing and self-sealing capabilities, reducing the time required for detail work and offers the peace of mind with long-term protection to the structures," said Gladys Kwan, APAC Market Management Director of Waterproofing and Roofing / Concrete. "It has extreme durability which expands its use to a variety of jobsite conditions, making it a robust yet simple to use waterproofing solution."
The Amphibia system is composed of three active layers: a water-tight EPDM barrier, an active core with the ability to self-heal when penetrated, and an active barrier which seals the overlap and helps resist lateral movement of water. On top of that, a non-woven fabric layer promotes the mechanical adhesion of the membrane to the concrete. Lastly, the TREMproof Amphibia Grip Tape is a double-sided, synthetic rubber composite membrane tape that seals the seam overlaps during installation. This butyl tape bonds strongly to the TREMproof Amphibia membrane, while a fleece facing also aides the tape's ability to adhere to concrete and ensure complete waterproofing.
About Tremco Construction Products Group Asia Pacific
Tremco Construction Products Group (CPG) Asia Pacific (APAC) is the recently unveiled master brand that brings together several leading construction product brands such as Tremco, Dryvit, Nudura, Willseal, NewBrick, Euclid Chemical, illbruck,
Flowcrete
, Nullifire and
Vandex
. The move aims to simplify the supply chain process by providing construction professionals with a one-stop-shop for high-performance construction materials for all six sides of the building.
Coupled with the strength of regional support team and world-class product technology, Tremco CPG APAC brands can deliver complete solutions for the entire building enclosure and provide customers with an understanding of international best practice and deliver quality assurance throughout the stages of the construction process.
For more information, visit us at
www.tremcocpg-asiapacific.com
.